Printy Self-Inking Stamps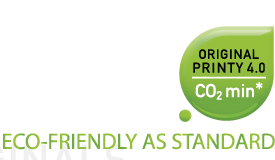 Trodat sees a special obligation as the world's market leader in stamp products and has set a good example for years in climate protection. Trodat took measures to improve energy use as early as 1993, when the Kyoto protocol was still not on everyone's lips, and Austria's strict environmental laws weren't at today's level.
Trodat places great emphasis on efficient energy use and careful treatment of raw materials throughout the entire value creation process (see ISO certification). Trodat stamps also are characterized by particularly long service life and therefore need less frequent replacement.